St. Ambrose's Cotiguala named 2015 Fred Mitchell Award winner
Senior connected on 23-of-25 field goals in the 2015
St. Ambrose University senior place-kicker Matt Cotiguala (Orland Park, IL) is the recipient of the 2015 Fred Mitchell Award. The Award is provided to the nation's top place-kicker in FCS, Division II, Division III, NAIA and NJCAA for excellence on the football field and in the community. Over 750 place-kickers are eligible.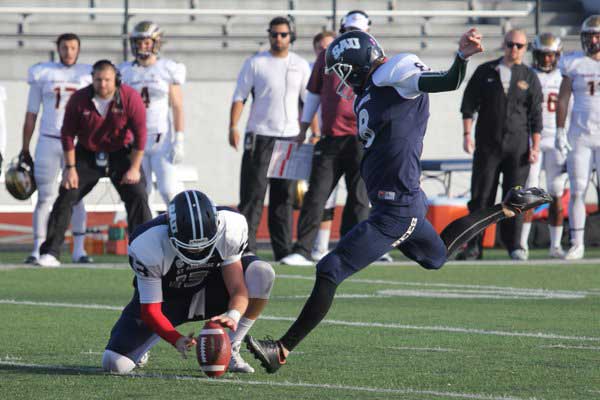 The Award is named for Fred Mitchell, the All-American place-kicker from Wittenberg University and sports columnist for the Chicago Tribune for 41 years. Mitchell said, "It is a thrill to congratulate Matt as the first NAIA kicker to receive the Fred Mitchell Award since 2011 and the first-ever kicker from a school in Iowa. With more than 750 place-kickers to choose from, we are extremely proud to recognize Matt among a stellar group of nominees. Matt was at or near the top of the 750 eligible kickers in many statistical categories. Matt's record-setting season and collegiate career were extremely impressive. It was a genuine pleasure for me to be the first to inform Matt that he is the 2015 FMA winner, and I could sense the sincere pride he places on receiving the Award."
Cotiguala was 23-of-25 on field goals in the 2015 season, going 5-of-6 from 40-plus. He was a perfect 28-of-28 on his point after attempts.
"It is a tremendous honor to be selected for the Fred Mitchell Award," Cotiguala said. "The Award validates the incredible focus and hard work not only shown by myself but the entire St. Ambrose football team this season. I am proud to have brought this award to the St. Ambrose family."
Cotiguala is very active in civic and community service endeavors. He volunteers with the U.S. Department of Homeland Security assisting agents in a variety of projects and he volunteers for a Congressman near his hometown to assist congressional aides. Cotiguala has actively a
ssisted veterans, volunteered for the Special Olympics, served in area soup kitchens and helped develop local high school kickers.
St. Ambrose head coach Mike Magistrelli added, "This is a tremendous and well-deserved honor for Matt. Nobody works harder on and off the field than he does. His discipline and dedication are what allow Matt to not only excel on the field but also in the classroom and the community."
The Award's Selection Committee Chairman, Chris Kearney, said, "There were dozens of terrific candidates for this Award. In fact, 32 place-kickers were nominated by their schools for consideration. We are looking forward to honoring Matt on February 15, 2016 during the National
Football Foundation Chicago Metro Chapter Awards Ceremony."