Bryant's Gettman 2022 Fred Mitchell Award winner
The Fred Mitchell Outstanding Place Kicker Award is proud to announce Ethan Gettman as the most Outstanding Place Kicker for his excellence on the football field for the 2022 season, and for continued community service during his collegiate career.
"Our 35-man Selection Committee is proud to recognize Ethan Gettman as the 2022 winner of the Fred Mitchell Award," Mitchell said. "The talented junior from Bryant University is only the third underclassman to earn the award since 2009. We evaluated a very strong field of candidates this season with regard to kicking performance and community service, and Gettman really stood out. We look forward to honoring him at our National Football Foundation ceremony in February."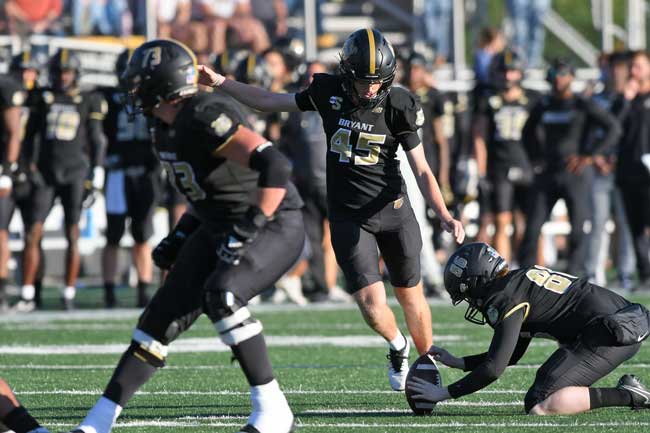 2022 Fred Mitchell Recipient
ETHAN GETTMAN
Bryant University (R.I.) – Football Championship Subdivision (FCS)
FG: 14-15 | FG%: 93% | 1-19: 1-1 | 20-29: 3-3 | 30-39: 6-7 | 40-49: 3-3 | 50+: 1-1 | LONG: 56 | PAT: 40-42 | PTS: 82
Sophomore from Ormond Beach, Fla., Gettman earned a place on the Big South Special Teams first team, earning the honors after leading the nation in field goal percentage. Gettman made a school-record 14 field goals, finishing 14-of-15, and led the Bulldogs in points with 82, with his only miss being a block. He made multiple field goals on four occasions, including a single-game record three field goals vs Charleston Southern and Campbell. Gettman hit a program record 56-yard field goal in the game vs Charleston Southern. He finished the year with 82 points, a single season record for a kicker and the most points by a Bulldog since 2014.  Over the summer, Gettman volunteered to help coach and train younger kickers to allow them to have an opportunity to get admitted to and pay for college through athletic scholarships.  Ethan Gettman also helps with trash clean up in Providence along with the Bryant Football team; assists at football camps for Pop Warner kids in Florida every summer while in high school, and helps coach under privileged children.  Ethan is also a card-carrying blood donator while at Bryant University.