Northern Arizona's Aguilar 2019 Fred Mitchell Award winner
The Fred Mitchell Outstanding Place Kicker Award is proud to announce Luis Aguilar as the most Outstanding Place Kicker for his excellence on the football field for the 2019 season, and for continued community service during his collegiate career.
"Luis Aguilar stood out among an impressive list of exceptional college kickers and we are proud to recognize him as our 2019 winner," Mitchell said.  "As the first underclassman to win the award since Tom Lynch in 2010, Aguilar portends to continue as one of the nation's top college kickers and a conscientious, community-minded individual."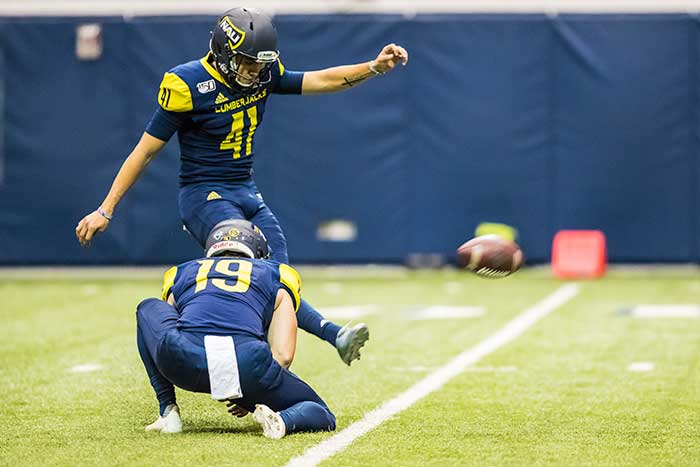 2019 Fred Mitchell Recipient
LUIS AGUILAR
Northern Arizona University – Football Championship Subdivision (FCS)
FG: 22-25 | FG%: 88% | <20: 2-2 | 20-29: 6-6 | 30-39: 4-4 | 40-49: 8-9 | 50+: 2-4 | LONG: 57 | PAT: 52-52 | PTS: 118
Junior from Nogales, Ariz., is enjoying a breakout season that has seen him establish himself as one of the top kickers in the FCS … Made the longest field goal in the FCS this season with a career-long 57-yard boot in win over Northern Colorado (Oct. 5) … Averaging 63.0 yards on 83 kickoffs with 61 touchbacks … 88 percent success rate on field goal attempts ranks 1st nationally in the FCS of kickers with more than 20 attempts … Average of 1.83 field goals made per game ranks 3rd in FCS … His 118 points scored rank as the 10th-highest total in the FCS … Luis has been honored as the Big Sky First Team All-Conference as a Kicker … Special Teams Player of the Week twice this season … Was a perfect 3-for-3 on field goal attempts, including a 48-yarder in season opening win over Missouri State (Aug. 29) … Drilled 7-of-8 kickoffs for touchbacks in the season-opening win over the Bears…finished 2-for-2 on field goal attempts with a long of 43 yards at Arizona (Sept. 7) … Drilled all three field goal attempts, including a 44-yarder and banged 8-of-9 kickoffs for touchbacks in victory over Western New Mexico (Sept. 14) … Connected on 46-yard field goal at Montana State (Sept. 21) … Was a perfect 2-for-2 on field goal attempts, including a career-long of 57 yards in win over Northern Colorado (Sept. 28) … The 57-yard field goal ranks as the second-longest in NAU history…also recorded touchbacks on all seven kickoffs vs. Northern Colorado … Drilled game-winning field goal from 38 yards with four seconds left in 31-29 victory over Portland State (10/26)…posted touchbacks on all six kickoffs vs. Vikings … Two of three missed field goals this season came from 51 and 52 yards in rainy conditions at Illinois State (Sept. 21) … Entered season with just four made field goals in his initial 22 career games with his longest make coming from 38 yards…has established himself as one the leaders on the squad this season with his dedications and work ethic … Regularly volunteer in the community having spent time this offseason dedicating his time to efforts to help assist the Flagstaff community following the "Museum Fire" in August of 2019 filling sandbags to be utilized in flood and fire prevention efforts … Assisted the Salvation Army in their annual "Back to School Buddy" program where he partnered with a local child to help him pick out clothes and supplies for the upcoming school year.