Fred Mitchell
Fred Mitchell is a long-time Chicago Tribune sports columnist who enjoyed a distinguished career as one of the nation's first prominent small-college place-kicking specialists at Wittenberg University in Springfield, Ohio.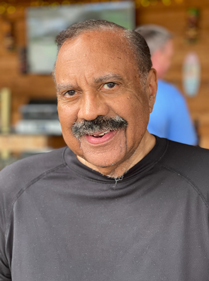 During the mid-1960s, Mitchell set the NCAA "College Division" record for career points scored by kicking while playing in the Ohio Athletic Conference for the legendary Bill Edwards, who later was inducted into the College Football Hall of Fame. Edwards had previously served as head coach of the Detroit Lions (1941-42) and as an assistant coach to Paul Brown with the Cleveland Browns. It was with the Browns that Edwards tutored Pro Football Hall of Fame kicker Lou Groza.
Mitchell, who was named to the Lutheran College All-America team in 1968, was inducted into Wittenberg's Athletic Hall of Fame in 1995.
Mitchell played semi-pro football with the Columbus Bucks while teaching English and coaching football and track at Grove City (Ohio) High School. One of his players, defensive end Gary Burley, went on to play nine years in the NFL with the Cincinnati Bengals and Atlanta Falcons. Burley started in Super Bowl XVI for the Bengals.
Mitchell, who played briefly for the Chicago Heights Broncos, also served as that league's sports information director. In 1999, he was inducted into the American Football Association's Minor League Football Hall of Fame in Canton, Ohio.
A member of the Wittenberg University Board of Directors, Mitchell received an honorary doctorate from his alma mater in 2000 and was named a Wittenberg Fellow in 2001. The Fred Mitchell Scholarship is awarded annually to the Wittenberg upper-class student who combines athletic and journalistic achievement.
Mitchell has written 12 sports books over his 41-year journalism career, including biographies with Chicago Bears Hall of Fame halfback Gale Sayers and Chicago Cubs Hall of Fame outfielder Billy Williams. He also wrote "Playing Through" with Earl Woods, the late father of PGA champion Tiger Woods and "Then Ditka Said To Payton" with former Bears lineman Dan Jiggetts. Mitchell received the "Jim Murray Award" as the outstanding sportswriter in 2000 from the American Football Foundation.
In 1974, Mitchell presented to Wilson Sporting Goods the idea of kicking nets, which later would become commonplace on the sidelines of NFL, college and high school football games.
Involved in numerous civic initiatives, Mitchell has served on the board of directors of Chicago's Metropolitan Family Services and was named to the "Who's Who in Chicagoland" in 1999 by the Muscular Dystrophy Association. Hired in 1974 as the first African-American sportswriter at the Chicago Tribune, Mitchell was named a member of the National Association of Black Journalists (NABJ) Hall of Fame in 1997.
Mitchell was a 2013 inductee into the American Football Kicking Hall of Fame. In 2023, he was inducted into the Indiana Football Hall of Fame (watch video here) and Chicagoland Sports Hall of Fame.
Born July 10, 1948, in Cincinnati, Ohio, Mitchell grew up in Gary, Indiana, earning letters in football, baseball and track, while also serving as the editor-in-chief of the newspaper and yearbook at Tolleston High School, from which he graduated with honors at the age of 16.
Mitchell lives in Chicago with his wife, Kim, and son, Cameron.
Mitchell videos
Mitchell photos